I'm pleased to report that we have donated $2,546 to the Mines Advisory Group and COPE (who assist people in rehabilitation after being injured by an exploding cluster bomb). Both of these organisations radically effect – for the better – the lives of their patients and are staffed by truly remarkable, compassionate and hard working people.   The feel good factor from giving to them is off the chart!
Featured above is a photo of MAG staff teaching children to be aware of cluster bombs. Universal Village decided to donate 40c per bag of Rhino Coffee sold because of the terrible problem Laos has with unexploded cluster bombs left over from the Vietnam War era.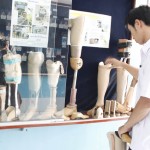 Photo by Gemima Harvey, Laos, 2010.
Rhino Coffee is Fairtrade and organic and has won multiple taste awards, most notably 2nd place in the 2010 Golden Bean awards for 'Best Espresso'!
Let your friends know that if they sign up to our eNews and tick 'Coffee' they will get a free sample!  We donate 40c from every pack of Rhino Coffee sold

Read more about Rhino Coffee, MAG or COPE.
Take care
Nicole